Striving for the ultimate performance seems to be an issue for a handful of people that I know. Yes, the fanatics, the outliers, the creative ones, the crazy ones who spend most of their time frying their brains on how to improve their athletes specifically, and how to enhance the ultimate human performance in general.
In the 1970's and 1980's many books have been written by Russian sports scientists, you know who I mean, the classics, Djatschkov, Matwejev, Werchoshansky, Bondartchuk, etc.
One author has been neglected and he wrote a wonderful small book, for the West only within reach through its publication in the former GDR, called "Kraftvorbereitung" . His name Vladimir Kuznetsov, a former elite javelin thrower.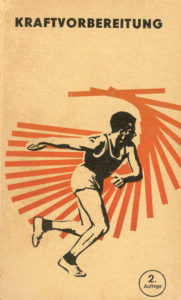 Apart from this book, his name is strongly connected to the development of the concept of "anthropomaximology"(1), which he described as "the science of the study of physical and psychological capabilities, of motor skills and the capabilities of the healthy human organism in the zone of his/her biological and mental limits and the objective principles of its development and perfection for application under normal and extreme conditions in many different daily activities"
Translation: a scientific approach to get the very best out of the human being and looking for the ultimate limits of human performance.
The main factor in improving human performance is of course the adaptation of the human body-mind. So in the former East-Bloc states the study of adaptation has been taken seriously and the science of adaptology or in sports, sportsadaptology has been established. In other words: how does the human body-mind adapt to external influences like training? It is the foundation of the methodology of training or as we call it training-science.
Unfortunately, most of our knowledge of human performance nowadays does not come from these sciences but from the world of fitness, from therapy (= pathology of malfunction) or from business, people trying to get as many people in the gym as possible, keeping them engaged and paying and not looking for the ultimate performance. Or people selling "magic" toys. Exercise scientists are specialists who most of the time like to ride their hobby horse and do seldom have access to the world best athletes as subjects for research about the ultimate performance. Only rarely one might find a case study of a world-class athlete. Hardly any background to study the limits of human performance.
At least before the wall came down in 1989, quite a few scientific studies have been performed about anthropomaximology and sports adaptology. However basic research has been performed much longer ago, amongst many others, the names of Folbort, Meerson (adaptation of the heart) and Viru (adaptation of the hormonal system) come to mind. Kuznetsov calculated that e.g. in the one-arm overhead throw, human realize only 20-30% of their movement potential. Studying the principles of javelin throws of 60, 70, 75 or 80 meter did not lead to any useful information, but studying javelin throws of 83-85 meters and more, lead to useful insights that could be used to improve the javelin throw and break new records, (keep in mind that at that time the world record, even with the old javelin was less than 90 meters). The deeper understanding of these principles can also lead to the development of new concepts and technologies.
Sports adaptology is being defined by Seluyanov as being "a new scientific discipline studying the holistic behavior of systems and organs of an athlete in the form of instant and long-term adaptive processes."(2)
In order to fully understand the phenomenon of adaptation, understanding of only one single physiological system, like muscle, heart or hormonal system is not enough, since many systems are involved in the adaptation process and they all interact with each other in a positive or negative way.
Adaptation is an individual process and its dynamics depends on the characteristics of each individual athlete.
All of this has become an integral part of my own vision on methodology of training 2.0 as I lecture and publish about. More support came from a recent book that is largely unknown, but is the very best book that gives us a deeper understanding of adaptation based on recent insights. (3)
Understand adaptation and you will understand the foundation of training, the activity with which we spend most of our time. Aiming for ultimate performances of our athletes is not sufficient, for that we also have to aim for our own ultimate performance as coaches, there is also no finish line for our understanding of adaptation, training, performance or our athletes.
Bibliography
1 Tschiene, P: Anthropomaximologie – Ein neuer Ansatz in der Theorie und Praxis des Sports; Leistungssport, Vol.10, No.1, 1980, pg.65-67 (German)   
2. Seluyanov, V.N: Sports Adaptology; Sport Science and Physical Education, Vol.2.
3. Isaev, A.P; Erlikh, V.V; Rybakov, V.V: Sports Training Individualization. State, Problems and Advanced Solutions; NOMOS, 2017.