Sometimes in life you walk a path together with other people. Sometimes this road splits again and one might not meet ever again, both going his/her own way. But it also happens that after a long period of time, a decade or more, the paths cross again. And this happened to me twice last week.
After having coached PierFrancesco Pavoni, for some years during 1987-1989, we did not see each other for a long time. PierFrancesco was one of the most gifted sprinters I coached, finalist in the WC in Rome in 1987 in the 100m and 200m, European Champion silver medal winner in the 100m in 1982 in Athens and two bronze medals in the WC indoor in the 60 meters in 1987 and 1989. He used to train with Pietro Mennea most of the time in Formia.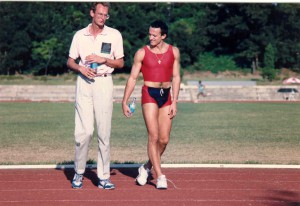 PierFrancesco, wasn't only a very good sprinter but also a real gentleman, a very creative designer and an unconventional and independent thinker. And on top of all that very funny too. His muscle fiber type is a clear indication of his talent. Just read his story about exceptional muscle fibers in the blog of Pierre-Jean Vazel: (in French, but you'll get the drift from the graphs).
http://vazel.blog.lemonde.fr/2015/03/21/les-fibres-superrapides-le-secret-du-sprinteur-pavoni/
It was good to meet him again after almost 30 years. He is a businessman, developing, producing and selling hyperthermia equipment which presents an excellent intervention to speed up the recovery of soft tissue injuries. This equipment is also a very good modality for the treatment of cancers for people who react badly to chemotherapy.
At the Amsterdam Medical Center (a huge hospital) they even have a whole department with PierFrancesco's machines called Alba: http://www.albahyperthermia.com/.
Technical progress and advancements in research made hyperthermia even more interesting in recent times.
Meeting each other again, we immediately picked up where we left almost 30 years ago, like it was yesterday, I feel this is one of the main characteristics of a good friendship. And when I coached him, I knew he would be successful in whatever he decided to do.
Contacts like these are one of the greatest pleasures life has to offer. I had the joy to meet another friend of mine, Dr.Per Tesch, again after a long time. Per Tesch is the world's expert on eccentric training. He was the inventor and developer (together with Dr. Hans Berg) of the fly-wheel concept. Originally designed for strength training in microgravity, since flywheel training is gravity-independent.
In my opinion Per is one of those scientists who has contributed a tremendous amount of groundbreaking research for sports performance. His research spans a long period of time and covers a lot of different issues. He was one of the top scientists of the well-known Karolinska Institute in Stockholm. A few years ago I invited him to come to Holland to speak about muscles, muscle fibers and strength training.
One can read his long list of publications, his eye-opening book about (first) use of MRI to see the effects of different exercises on the recruitment of muscle fibers (Muscle meets Magnet, now called Target Bodybuilding) or his chapter in the book "Strength and Power in Sports: "Acute and Chronic Muscle Metabolic Adaptations to Strength Training".
Being retired now, he organizes the second Global Seminar on the Hamstring (the first one was in Stockholm), part of the Global Hamstring Project, on November 28, 2015, in Spain, near Barcelona.
Report on the first Seminar: http://youtu.be/nUOTzGxT25U?t=2s
If you are working in elite sports or in rehabilitation of hamstring injuries, this seminar might be something you want to attend.