I am still in touch with most of the athletes I coached. Some of them regularly, some of them once a year, but in many cases our last workout together was 20-30 years ago. But I also lost contact with some of them simply because they moved, sometimes to another country.
One of the athletes I lost contact with is Ronald Desruelles. In the past years when I asked other people who knew him, nobody knew where he was or what happened to him, he seemed to have disappeared. He was one of the most gifted and also nicest athletes I ever worked with. I coached him from 1986-1988.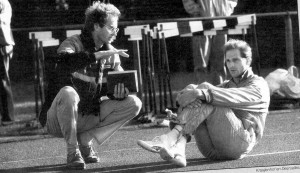 Ronald was an excellent sprinter (P.B. 100m 10.02 secs, 200m 20.66 secs, he also jumped 8.08 meter in the long jump and ran 60 meter indoors in 6.56 secs).
He became European indoor champion in the 60 meters in Madrid in 1986, was 6th in the World Indoor Championships 60 meters in Indianapolis in 1987 and won silver at the European Indoor Championships in Budapest in 1988.
As an athlete he was born to sprint and to jump, very explosive and elastic, a human kangaroo.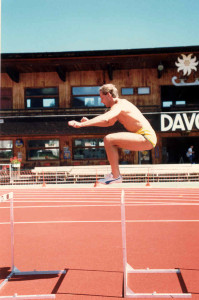 This week, I learned why I lost contact with him, he had moved from Belgium to Thailand and became the owner of three restaurants there. The bad news however is that he has taken his own life, most probably as the newspaper article said, because he could no longer cope with the financial burden of the restaurants which that weren't doing too well.
This news must have been a big shock to all who knew him, and in my case trained with him. If there would have been anything I could have done to help him, I surely would have done so.
I got to know him as a very gentle and almost shy personality, proud, and with a great sense of humor. Somehow he found the balance between enjoying life and being dedicated to the sport and the training. He was a handsome athlete and always attracted female attention, which was the cause of many anecdotes. I fondly remember going to training camps with him, he was great addition to any group.
I feel sorry for the family and friends he left behind. No matter how fast he was, somehow he could not outrun the harsh reality of life. But Ronald has not disappeared, he is now on the outside looking in and he is still here in our memories.