I have been slacking a bit with my blog posts. I often stated that as a coach I use a three phase cycle. First, the phase of information-acquisition such as reading, listening, and observing. Then the second phase of processing and implementing the new information, basically experimenting or trying things out in real life. And then there is the third phase of evaluating and sharing the information, which comes down to get to the core of the information and writing and lecturing. These last couple of months I have gone back to first phase: gathering information. I bought and downloaded several thousands of books covering a very wide spectrum of subjects.

The buying and downloading might been a matter of days, but reading them takes a little bit longer, even though my reading speed is beyond the scale and many books contain overlapping information. No, I did not read them all yet. This is the issue of reading a lot: it becomes more difficult to read something really new. I also cautiously started working with the new information. Next to the specific information for my work as educator and coach, mainly about sports, I always try to read about a range of different subjects. First of all to stay sane and to not become myopic or lost, and also to keep seeing things in perspective and to avoid boredom.
Of course the summer season saw a lot of turbulence in sports e.g. the Olympics in Rio.
One could observe a few things during the Olympics in Rio: as I have stated before, despite the deceiving numbers presented by the organizers, I saw more empty seats than ever before – it was shocking sometimes. To me it shows again that the Olympics are past their expiry date.
We also saw the ban of the Russian athletes at the Rio Olympics. A useless symbolic political move which does not at all affect the Russian system which is blamed for the systematic state supported use of doping. No, I am pretty sure the Russian designers and controllers of the system were watching the Olympics from their VIP seats in Rio. It shows once and again that sport is heavily "polluted' by global politics. It is just a large and expensive circus with the expected outcome for the organizing city: the city of Rio is bankrupt and had barely have enough money left to stage the Paralympics.
Olympics: milking and manipulating the masses for the profit and power of few. Athletes have become just an alibi, disposable pawns for personal interests of few powerful people. Too bad seeing this happening over the years.
We also saw that WADA, the crusaders for clean sports, did really nothing to support whistleblower Julia Stepanova and her family. Her case was moving fast from one organization to another: IOC, WADA, IAAF, CAS, nobody had the courage and took the responsibility to stand up for her. And even worse, WADA isn't even capable of protecting the confidential data of the where-about system of Julia, thus putting her life and the lives of her family in danger by having their database system hacked. Who knows who now knows Julia's last address. It forced her and her family to be on the move again. This definitely is not a motivation boost for any whistleblower, unless they want to commit social and financial suicide.
But we also saw incredible performances. For me stood out: the unbelievable 400 m of Wade van Nieuwkerk. He became Olympic champion and broke the world record from the outside lane. The performance of the US 4×100 women, smart enough to finish their race after the mess at one of the exchanges, then qualifying running all by themselves, and to top it off by becoming Olympic champion from lane one, beating the Jamaican team. The Olympics are also the opportunity to watch and observe other sports, the ones that you don't see nor watch normally, in my case e.g. archery. What a nerve wracking event, I became a fan immediately!
In between all these I had my lecturing tour in the USA, felt a little bit a rock star, but then without the groupies and the drugs. Yes, a few excellent local beers, but that was about it. First to CVASPS in Richmond, in my top 3 of best seminars at the moment, taking everything into consideration and getting better every year.
This year my dear friend and colleague Jay deMayo came out with "The Manual" Vol.1 a collection of chapters by different authors in which I wrote the chapter about Muscle-fiber specific training.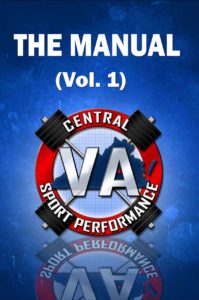 Then off to Madison, seeing two other friends and colleagues: Jim Snider and Erik Helland, in the great city between the lakes, great university too. Last stop was Minneapolis, home base of my dynamic friend Cal Dietz. Lecturing with Cal and Chris Korfist, who I know for the longest time already, working with vibration platforms and power-measurements.
Also in the last few months, I finished my first book about sprint and sprint training published by Elite Athlete Concepts and just is about to come out. But believe me, writing a book is a time consuming activity.
One of the main topics of my recent studies is ways to improve organ and cellular functioning by modifying signaling pathways. We do this all the time e.g. by living, by nutrition and by exercising. But for me that is not enough, I would like to do this more specifically and selectively, thus supporting the processes already being modified by nutrition and exercise. These pathways can be stimulated by bioactive compounds of which there are many thousands, or by electro-magnetic waves with the right waveform, frequency and amplitude.
Every cell has many ion channels, receptors or transporters that are dependent on electromagnetic forces as well as the presence of chemical substances like hormones, neurotransmitters or ions. It is not an easy task comprehending all of this, I can tell you. But the combined knowledge of many researchers, published in many of those thousands of books and oh, still I forgot the thousands of articles next to those, helped me a great deal in understanding the ways this can be done. I found some extremely interesting concepts and applications and am currently experimenting with these to see if the theoretical possibilities will match real life challenges.