I love research, scientific research, or better yet, sport scientific research, but I try to not become blindsided by it. We have to realize that research has a completely different goal from coaching. It is a different process altogether, and always targeted towards generalizable results and guidelines for the average person.
But in elite sports there is no average person, we are working with a small population of genetic freaks, outliers, from the range of average. In elite sports small differences between individuals can make a tremendous difference in performance and create the difference between an Olympic champion and not making the finals. We are looking for marginal gains, below the level of statistical significance.
So I don't really care about the average result of a scientific research project in sport, often conducted with average athletes. The consequence is that I have to take a close look at each individual that I am coaching and try figure things out.
Profiling an athlete is an important part of my concept of training and coaching. A few weeks ago, together with a very smart young sport scientist and coach, Dr. Kornelius Kraus from Muenich, we decided to conduct a small case-study with one athlete only as a kind of possible blueprint. We looked for a few aspects here.
1. Finding out the individual muscular recruitment patterns, like left/right balance, quad  activity, hamstring activity, and glute activity
2. The effect of wearable resistance on muscle recruitment
3. The effect of KAATSU on muscle recruitment
Be aware that this is not something you have to do with you with your athletes, it is a summary of some things that we did, since we thought this was important for us to know about this particular athlete. So don't copy, just read, try to understand the underlying principles and adapt to your own and your athlete's needs and specific environment.
We measured muscular activity by measuring EMG of L and R quads, L and R hamstrings, and L and R glutes and stored and processes these data: QL/QR, HL/HR, GL/GR.
From the EMG we derived the average as well as the peak EMG during a defined duration.
I won't bore you with the results more than 30 exercises and drills that we tested, but chose a few examples only. The subject is a young athlete, who recently started training for sprint.
First we look at the basic muscular activity during rest, supine position (approx. 1 minute)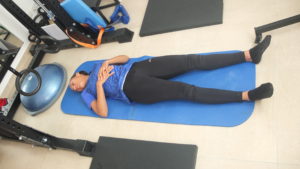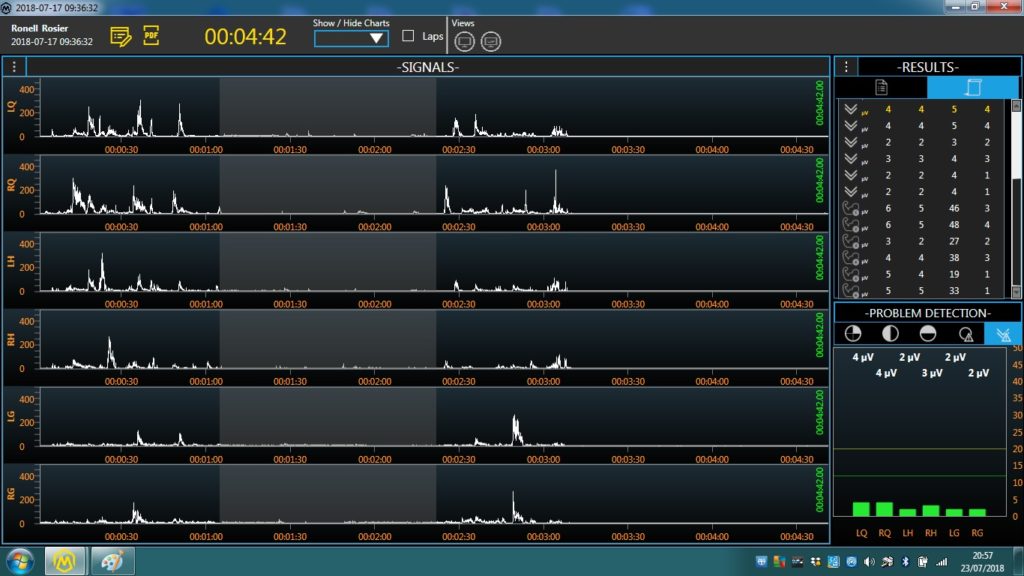 The grey zone is the processed duration of the EMG measurement. The green light down right indicate there are no L/R imbalances in rest and the EMG activity is low (< 6 microvolt).
The next exercise is the unloaded squat (40 reps)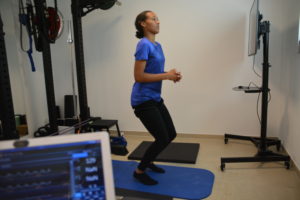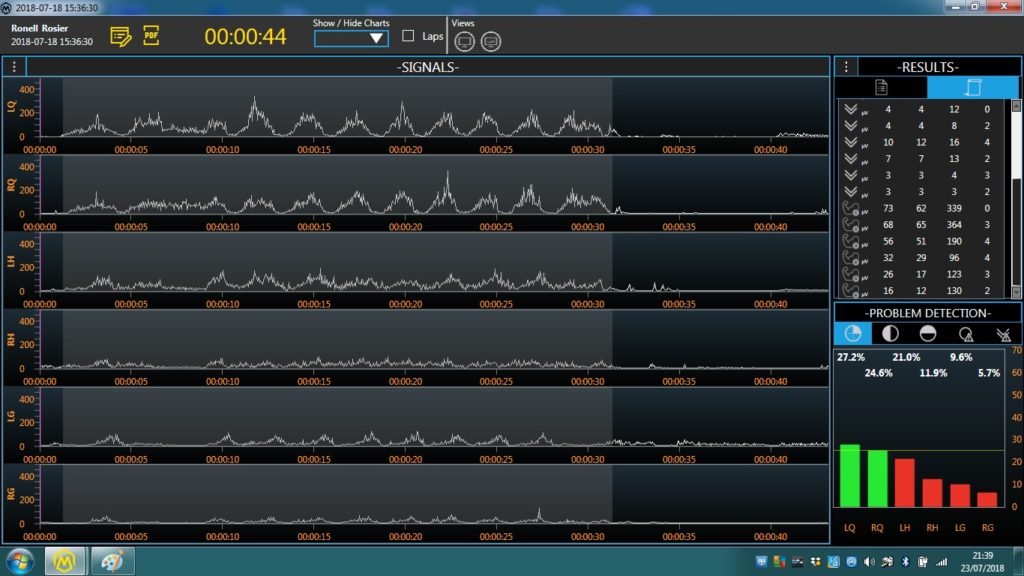 We see a nice L/R balance in the quads and hamstring, but an imbalance and low activity in the glutes.
For the first time this athlete lifted weights and performed 10 hex squats with 30 kgs (67 lbs).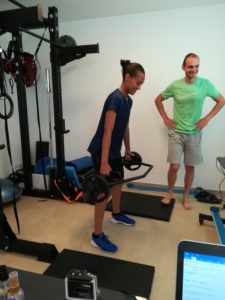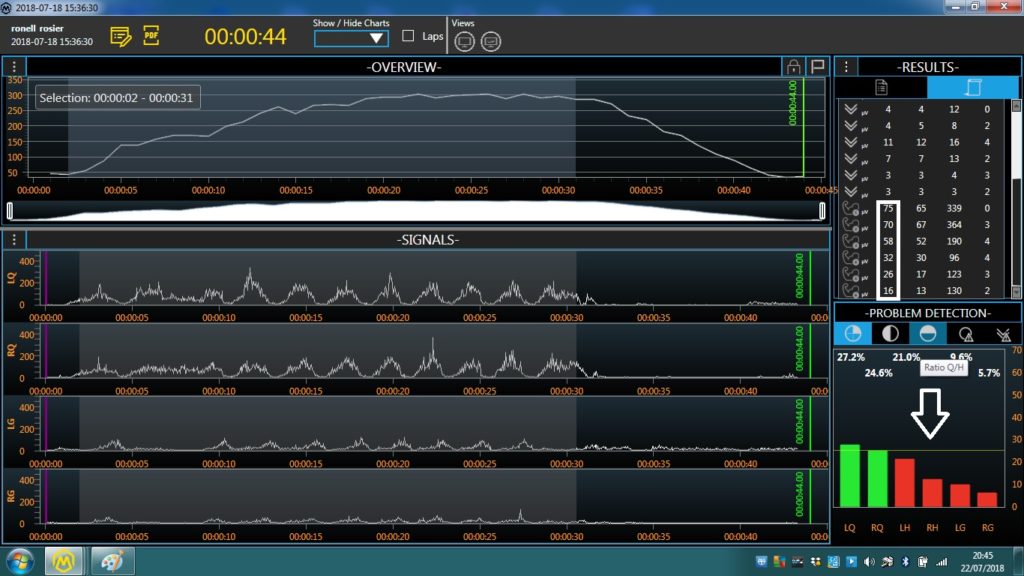 We see an increased activity of quads, hamstrings and glutes, with the L hamstring and L glute becoming dominant, a higher EMG activity than the R hamstring and R glute.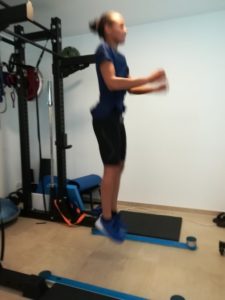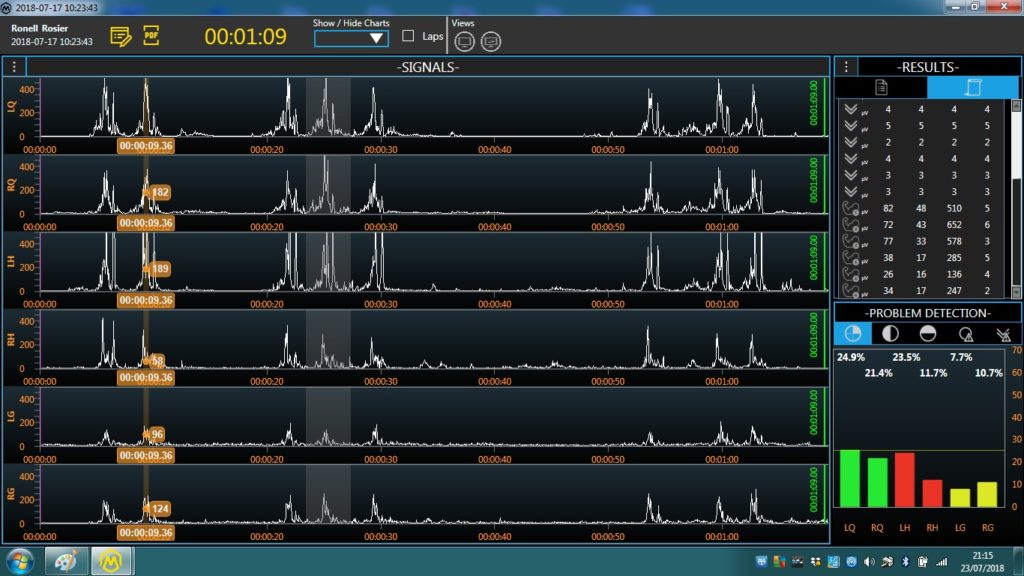 More explosive activity in the simple counter-movement jump with armswing, (or vertical jump) Again we see a higher activity in all muscle groups, and again an imbalance in the L vs. R hamstring
The last exercise is 50 meter sprinting from standing start (30 meter acceleration + 20 m flying).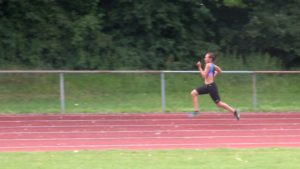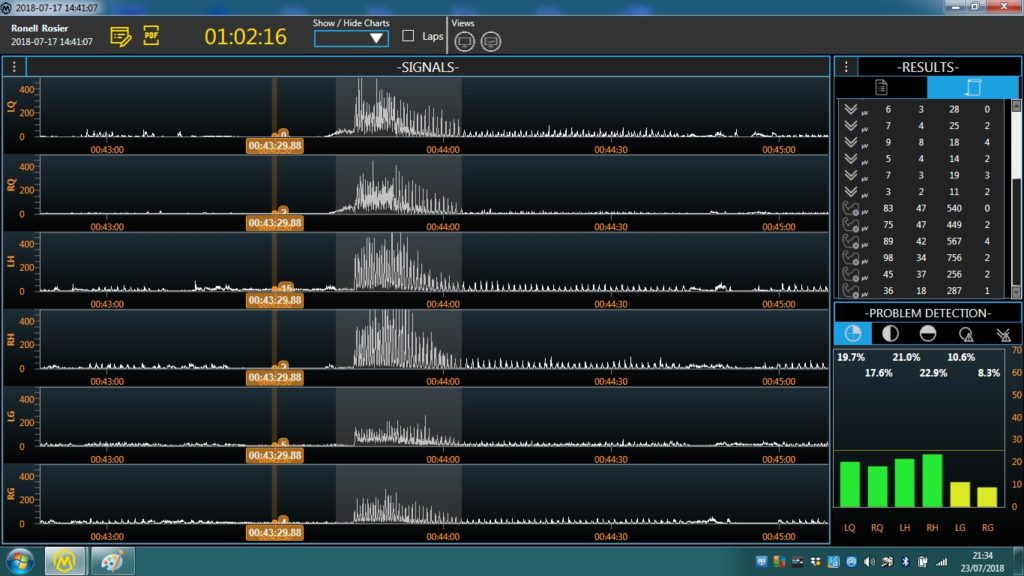 A somewhat higher overall muscular activity, still to be expected, but a reversal of dominance: now the hamstrings activity is higher than the quadriceps activity. In the sprint of this athlete we see a higher activity of hamstrings and glutes at the expense of the quadriceps activity. A summary in numbers you find in the graph below.
Table 1.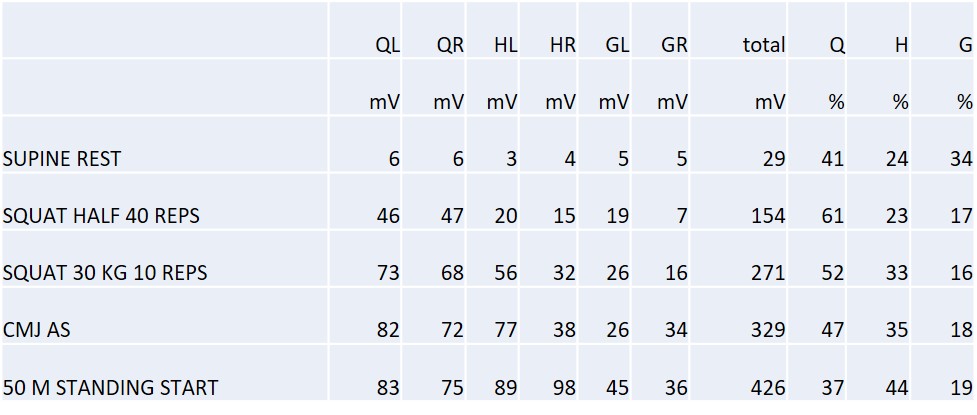 QL = quadriceps left, QR = quadriceps right, HL = hamstrings left, HR = hamstrings right, GL = gluteus left, GR = gluteus right, total = sum of all six muscle groups, % = percentage based on total (= 100%)
The real issue however, is not the measurement itself, but the interpretation of the numbers!
So what does it mean if e.g. in the 30 kg squat the left quad shows an activity of 82 and the right quad of 72 mV? How is this related to strength? One could state that the left quad is stronger based on the recruitment of more muscle fibers, which means the right quad is weaker and needs to be focused on.
Or is the left quad weaker, and that is why it has to recruit more muscle fibers as a compensation? Or is it just something else, a leg length difference, a pelvic imbalance or tilt, or just a matter of not having stabilized the movement pattern because this is the first time?
This is rather simple to find out, we make a force-velocity curve in leg extension (or better: knee extension) equipment, to have a better look at the cause of this imbalance and to see with quad is stronger, but that is something for a next post.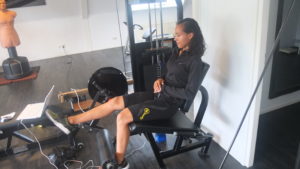 So what could we learn from these tests?
1. The balance between e.g. quadriceps and hamstrings changes as the movement velocity and the load change. This is important since many of us detect a muscular imbalance by testing one movement of exercise only. This will not tell you the whole story and often only will give you inadequate information, leading to inadequate interventions!
2. The same thing applies to L/R imbalances.
For me, testing muscle function get more reliable when one looks at:
1. functional balances, e.g. stride length and contact times in sprint,
2. testing EMG or muscular activity and recruitment patterns
3. balances in strength testing e.g. leg extension and EMG Making a force/velocity diagram over the spectrum of loads, not only 1RM
4. testing in flexibility, elasticity and stiffness