Yes, it has been busy last week and this week too, almost too busy to write a post.What kept me busy, apart from my courses and consulting with more private clients than ever? Read below.
But is it sport?
If you go back to the roots of sport then you will find that sports originally started as preparation for two things: 1. practice and preparation for hunting 2. practice and preparation for combat.
We can retrace this by looking at the classical (Olympic) sports. For improving our hunting and thus our survival skills we used basic movement patterns like running and jumping, but also the use of weaponry was practiced and used to improve the skills like archery or javelin throwing. Trying to   improve these skills through practice and competition increased the chances of getting more proteins or the right fats in our food.
The same applies to combat: the skills needed for the fight against intruders or enemies were sharpened by competition, from unarmed combat like wrestling, martial, arts, or boxing, to the fight with weapons like sword fighting, fencing, and again archery, etc. In a later stage in history the use of firearms was also added to the set of skills that increased the chances of survival in combat situations.
From the start of human history the warrior has been a class in itsel,. the strong, the brave, the smart, the skilled men who were willing to put their lives on the line in order to protect the group they represented.
We still recognize this class in e.g. our Special Forces, who operations with surgical precision, like protecting our ships from being hijacked by pirates or our airplanes or in some case our trains (like in the Netherlands in 1977) being hijacked by terrorists or many other risky operations.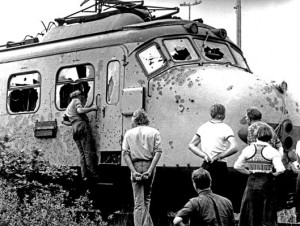 But these units sometimes have to train and test their skills and real life operation might not be the proper opportunity to test them.
Some units have the privilege to test their skills at the Annual Warrior Competition (AWC) at the KASOTC (King Abdullah Special Operations Training Centre) in Amman, Jordan, which is going to happen March 23-28.  Many teams from all over the world participate and test their skills in a realistic setting. The real challenge is that they need to use many different, very specific skills. The AWC can be compared with the decathlon in athletics where the mastering of different skills with different or opposite demands is the real challenge. But the difference is: this is an extreme team event, where not only your competitive success, but also your health and life may depend on the other members of your team. This creates a special dimension in this kind of competition and this kind of work.
I had the honour of helping one of these teams to prepare for this competition and it has been a pleasure to do so, since these operators show a dedication and eagerness to learn that surpasses many elite athletes. This time we talked about the immediate preparation for an event like this.
In contrast to sports events this event is not widely broadcasted for obvious reasons. But in the end you might find some video on YouTube like this one (www.youtube.com/watch?v=flHrAaqmzYE) showing the extreme demands of a competition like this.
It's a great opportunity to see what these guys are up to, because most of the time they perform outside of the limelight, ensuring we can sleep peacefully in our beds every night.

More information:  www.kasotc.com or www.warriorcompetition.com
One of the few
Last week I was invited, through one of my friends, Olympic swimmer Pieter van de Hoogenband for dinner with his Topsport Community. With this Community he tries to bring together the best brains from sports, business and culture, to exchange ideas and to connect. The first guest speakers this time were Frits van Eerd, CEO of Jumbo, the second largest supermarket chain and participant in the Paris-Dakar rally about who he turned a small family company into a successful enterprise, the second speaker was Olympic champion in Gymnastics, Epke Zonderland, who combines his study as a medical doctor with Olympic aspiration in Rio in 2016 and told about his quest for gold, the choices and dilemma he was facing before his golden exercise.   And the third one was one of the chosen few people that had to opportunity to go into space as an astronaut, Andre Kuipers. Not only is Andre a very intelligent man with a unique experience, but also a fantastic ambassador of his profession. He is able to inspire a lot of people from kids to scientists, with telling the story of his trip into space. He is able to turn complex issues into comprehensible language. For me the most important message was that from above he clearly saw the limited natural resources like the Amazon rainforest and the unstoppable destructive "progress" of man on this small planet. The deforestation, the overpopulation, more cities, more people, more pollution, until we reach the tipping point of having too many people but not enough resources left to sustain. He saw in space, that apart from this little planet, this pale blue dot as Carl Sagan called it, there is no place to go, gone is gone, destroyed is destroyed. Maybe not a positive message, but certainly an important one.
Watch Oman!
In the beginning of the 1990's I use to live and work in the Sultanate of Oman, as a Director of Coaching and Education for the Oman Athletic Association. Oman might not ring a bell. You can find Oman in Google Maps, but athletics?? But take a look at the Olympic finals in 1988 in Seoul in the 400 meters. You will find the name of Mohammed Al Malki, the 400 meter runner from Oman. Personal best: 44.56 secs, a time that is still good enough for most finals or is even worth a medal in many recent many World Championships or Olympics.
One of my assistants at that time was a young and very intelligent man called Rashid Al Kindi. And at the moment of writing this, I am back in Oman. This time working for Oman Sail, where my former assistant Rashid is now Technical Director of Oman Sail and he is doing this job very, very well.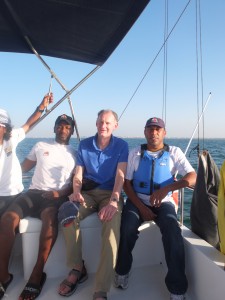 Oman was, like Holland, a seafaring nation. Its sailing ships or dhows went all over the world buy, sell or  exchange goods. Remember the stories of Sindbad the Sailor? It is said that he was born in Oman.
Despite the fact that a lot of people think of the Middle East as being sand and desert, Oman has  very green areas (thanks to the monsoon), mountains up to 3000 meter, and 1700 km coast line, which made fishing a way of life for many Omani's.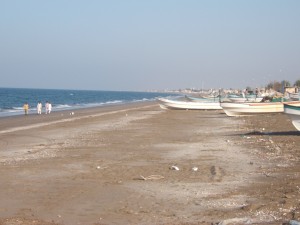 Oman Sail is new company, not an association, and is one of the smoothest running sports organisations I ever encountered! Not only do they have a long-term vision (up to the Olympics 2024),  but also the dedication and the brains to make it happen. Many organisations may have a great vision but fail in the execution of it.
I spent some days at the Oman Sailing Centre at Al Musannah, around 100 km from the capital, Muscat, and again one of the most beautiful training centers I have ever visited, and believe me, I visited a lot.  We test many sailors with the Omegawave and the Smartcoach and lecture for their coaches every day.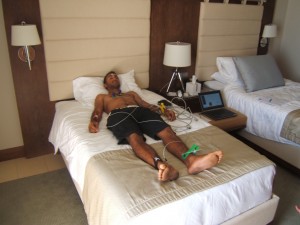 This is done in the wonderful Millenium hotel and apartments which are part of the facilities, and it is next to the water, so you can hop straight from your hotelroom into your ship and sail away.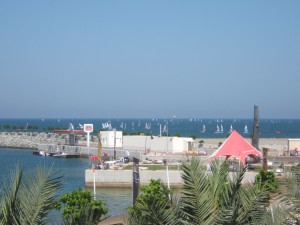 Excellent food and service and for visiting sailors and surfers. The gym, the experienced and well educated fitness coaches are in the same building. And the whole setup is equipped with state of the art facilities. Of course on a day off, you can hire a four-wheel drive and explore the endless natural beauty of Oman and experience the incredible hospitality and openness of the Omani's. A place I love to go and like to bring to your attention. And….. watch the Omani sailors in all classes slowly but gradually making their way to the top. You can't say that nobody told you …..
More information for interested readers: www.omansail.com