In the post before you have been reading about the value of monitoring the strength training process by simply making a force/velocity-graph and the force/power-graph. For that has been a great step forwards in make the strength training workouts for my athletes more efficient.
That value can be found in:
1.    monitoring the individual development of strength, speed and power
and adapting the program according to the outcome of the tests
2.    comparing different athletes with each other to see individual characteristics.
For both  your will find some real life examples and explanations below, of course I have gathered thousands of these graphs through the years, but I choose these as examples.
In the post before you have seen the development of the force/velocity- and force/power-graphs in free squat in an Olympic sprint medallist.
Here is an example of an elite soccer player that that I used to work with for a few years in terms of conditioning.  Before, he had broken a few bones in his lower leg and got a variety of pins, screws and plates that had recently been taken out again. Now if you think about it: if you take a screw out of a piece of wood, you will find a hole in there. So if you take a screw out of a bone, you will most likely find that too, so don't load that (right) leg too much…….and here is the result, measured in knee extension.(the right leg is the red F/V and F/P graphs) . A tremendous L/R dysbalance which we balanced out in 2 months.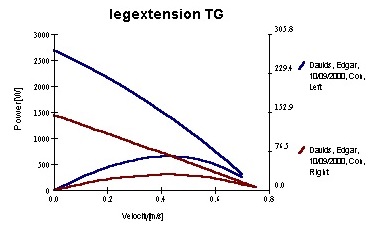 Another example in a sprinter (200m 20.19, 100m 10.18): we monitored the F/V graphs throughout the training year and adjust the strength training, share of strength vs. power exercise accordingly and one can see the changes in the F/V graphs, easy to detect in the force part of the graph, at the left side.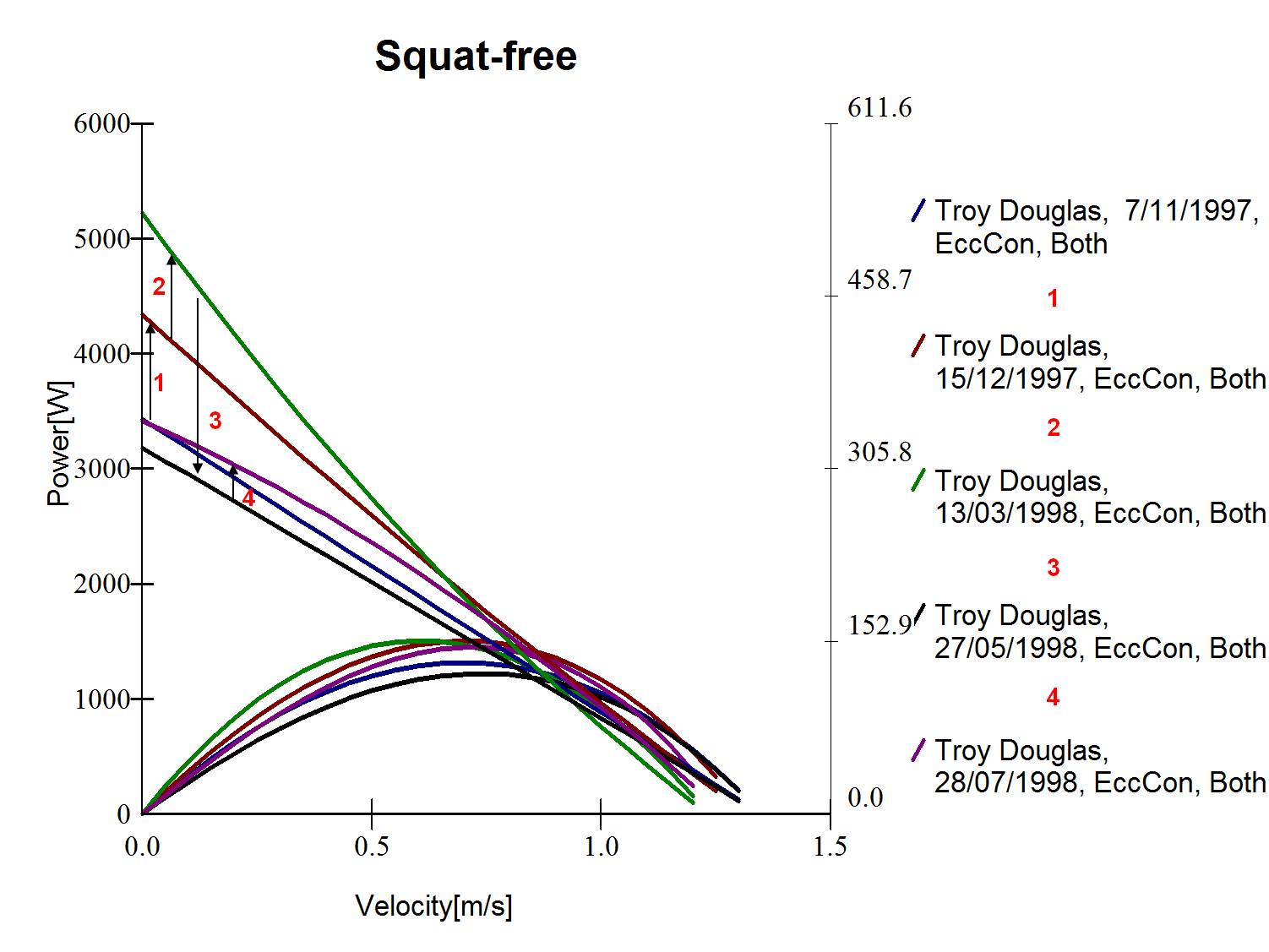 But as I said, we can also compare athletes. In the next graph you will find three women I coached, two world class 100/200m sprinters (Ottey: 10.74 and 21.64; Onyali: 10.97 and 22.08)  and one world class 800 meter runner (Vriesde 1.56.65). And you can see where I went overboard as a sprint coach coaching the long and boring distance of 800 meters. Vriesde was the strongest of them all and the slowest, (blue line) she could squat a lot, we did not go too high in load too often, but she responded very well to strength training, and since she improved so well, I did not dare to change the program again.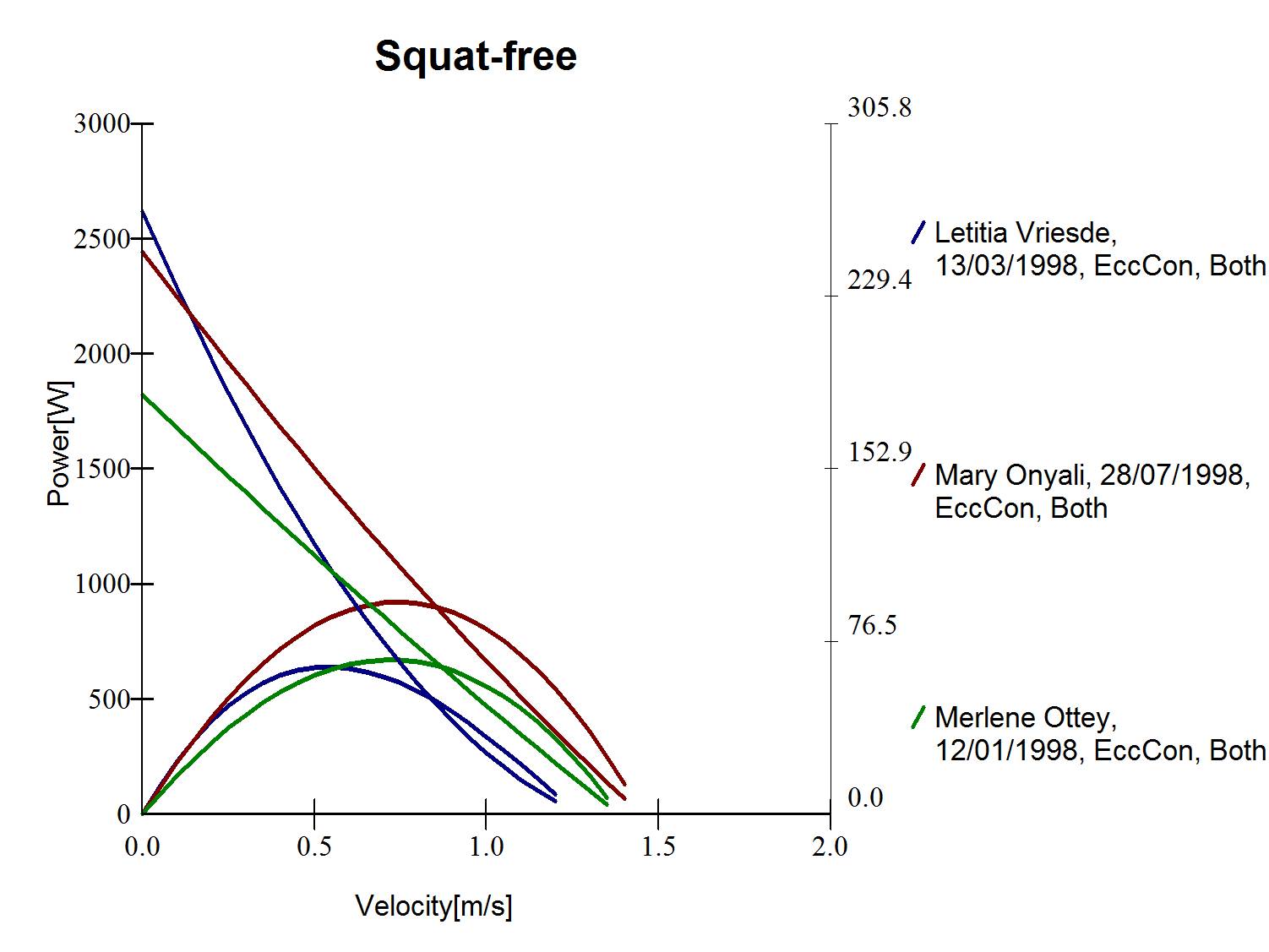 In the last graph you see two world class field hockey players, members of the national Olympic men's team, that I worked with for conditioning.
Obviously there is the experienced veteran player, Delmee, who could handle a lot of load in strength training and the younger not as experience in strength training, Doherty. The difference in maximal strength and power levels is clear.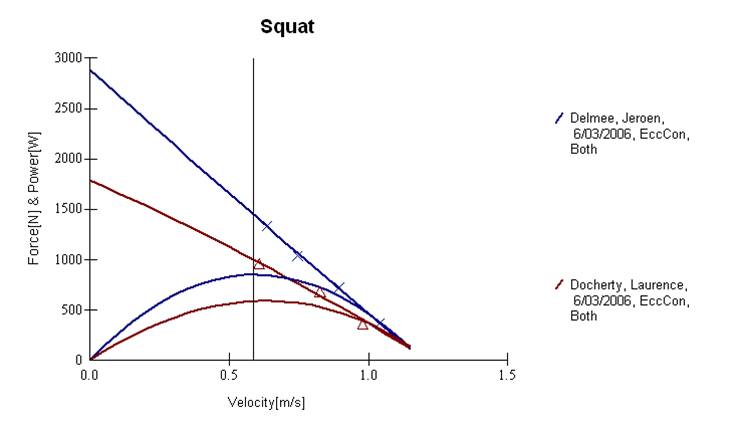 Does the F/V graph or the F/P graph explain the differences in performance?
Of course not, there are technical, tactical, and mental components and the influences of endurance. Somebody might be much stronger and having a better F/V graph, but the other athlete might have a much better endurance.
And there is the limitation in exercise, somebody might generate a lot of power in squat, but less power on the track. So: the F/V and the F/P graphs only reveal a part of the total of complex performance factors, but an important one.
No singular test is directly and closely related to performance in competition, I wish that was true since I am still looking for that one single, the "Great Predictor of Success In Competition". If you found, it, let me know…..