We talk a lot about muscles, after all they make up 40% of our body weight, and are the origin of our ability to move and to communicate. One very important aspect of muscle functioning and muscle injuries is the balance between the activity of muscles, while exercising. Until now it wasn't very easy to evaluate muscle functioning while cycling or running. How would you do that? In one of my earlier posts I indicated that I use EMG to measure if and which muscles are being used within an exercise, and how much they are used and when. But the use of EMG is not an easy task. The equipment is expensive, wires prevent measurement at a distance and there can be errors in measuring as well (artifacts). Besides that, every measured muscle group needs its own electrode and channel.
So for years I have been looking for a simpler and more efficient solution. And my search is over! Coming from clinical research a company developed a set of shorts with embedded electrodes for the glutes, the hamstrings and the quads on the left and the right leg. And a Bluetooth connection makes it possible to measure from a distance and move freely, without the use of cables. The software automatically calculates muscular activity and muscle balances and imbalances in these important muscle groups, while moving at any given intensity. So no more empty talking about muscles working, about muscles firing or not. Now you can easily see it with your own eyes and make fact-based decisions. These tests can also be combined with simultaneous heart rate measurement and/or power measurements.Two simple tests to explain:
Subject 1: treadmill running with incremental speed 3-6-9-12-15km/h.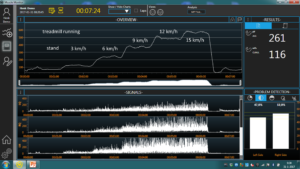 Subject 2 : (standing in rest)-5 unloaded squats-(rest)- 5 vertical jump-(rest)-walk on the spot-(rest)-run on the spot-(rest)- short run in the lab.  The muscular activity of L and R Gluteus, L and R Quads, and L and R Hamstrings are measured.  (the subject had a problem in the right foot!)
Look at the graphs below: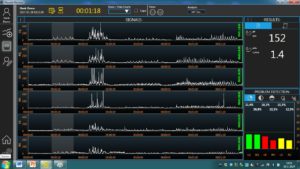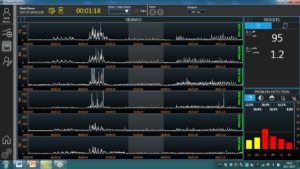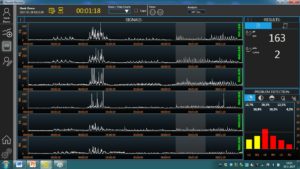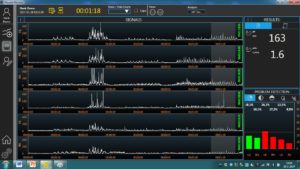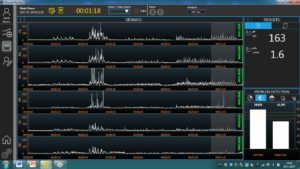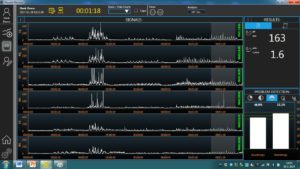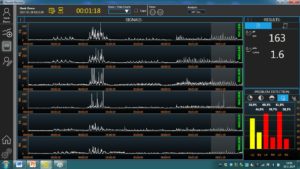 Notes: The grey highlighted zone is the time frame of the exercise and the measurement. In lower right hand corner one can see the relative muscular activities.
The good thing about measuring these factors will take away the many (false) assumptions on which we as coaches base our programs or corrections ( "we should work on your left …….. because it isn't firing'…..")